WELCOME TO THE NATURE'S EMPORIUM RUN FOR SOUTHLAKE - SL5K VIRTUAL CHALLENGE
This year, we invite you on a journey like no other! From Sept 23-27th, 2020, join us on a virtual mission to see just how much ground you can cover, while raising vital funds for Southlake through this year's re-imagined Nature's Emporium Run for Southlake - SL5K Virtual Challenge!
Run, walk, bike - take part in ANY distance-based activity during our 5-day virtual kilometre challenge! Using the My Virtual Mission platform you will be able to track your kilometres, see yourself advance along the route, motivate fellow teammates through an interactive chat forum and so much more!
While we may be apart this year, you are not alone. And now more than ever, we need your help to raise $150,000! Did you know most new and replacement hospital equipment is not funded by the government? We rely on the generosity of people like you to help us replace the life-saving tools that have become worn from overuse, and to purchase new technology that helps improve patient care.
Already registered? You'll hear from us directly with more information about the SL5K Virtual Challenge and what this means for you.
Registration
Register NOW to join us for the Nature's Emporium Run for Southlake - SL5K Virtual Challenge!
Adult Registration $54.00
Youth Registration $20.00
All registrants will receive a race kit, t-shirt, finisher medal, and access to My Virtual Mission.
Registration closes Monday, September 14, 2020 at 12:00PM ET
** All registrations are final, non-refundable, and non-transferable.
THANK YOU TO OUR 2020 TITLE SPONSOR: NATURE'S EMPORIUM!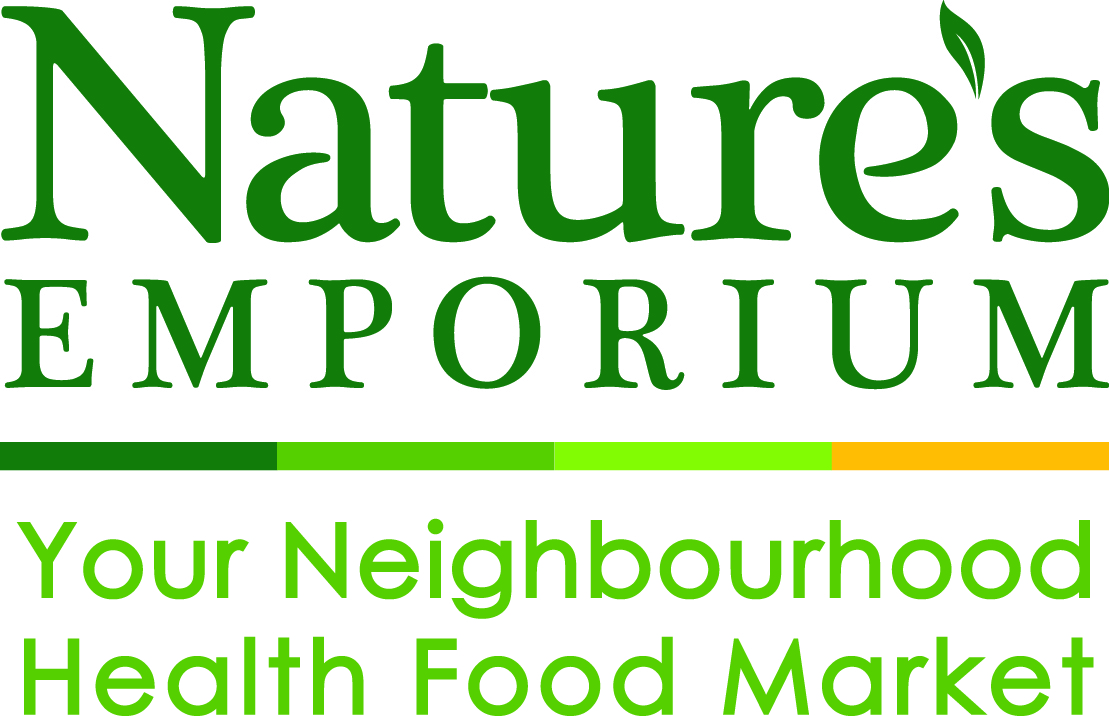 Learn more about Nature's Emporium here.
Join us at Nature's Emporium (16655 Yonge Street, Newmarket) on Sept 18th and 19th to pick up your Race kit! (Stay tuned for more details.)
Together We Can Raise $150,000
The success of the Nature's Emporium Run for Southlake - SL5K Virtual Challenge is directly tied to YOU! We need all participants to tap into their network of friends, family, colleagues and neighbours to pledge consider asking for $5 for every kilometre you cover! Use your personal fundraising page to reach out via email or social media and raise what you can in support of leading edge care close to home at Southlake!
CHECK OUT OUR FUNDRAISING RESOURCES
Fundraising Awards and Incentives
Join one of our Team Challenge categories to compete for the Top Fundraising award and bragging rights amongst your friends, colleagues and peers!
| Top Individual Fundraiser | Financial Institution Challenge |
| --- | --- |
| Hospital Department Challenge | Mayor's Challenge |
| Community Friends & Family Challenge | Corporate & Business Challenge |
Whether fundraising as part of a team or as an individual, each of our fundraisers are eligible to earn some amazing prizes for their individual fundraising contributions!
New this year, we've introduced a special prize to thank you for being an ambassador in our communities! The first 400 participants who raise $100 or more will earn a pair of fun SL5K training socks.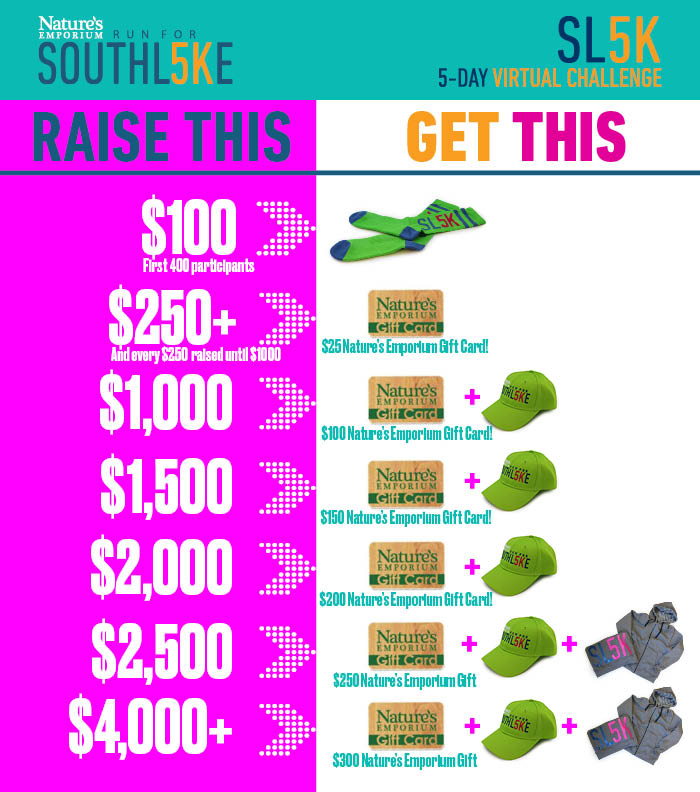 CHECK OUT THE #SL5KTOGETHERAPART MOSAIC!
A great BIG thank you to everyone who joined us for the #SL5KTogetherApartChallenge as a way to celebrate what would have been race day on April 26th! This inspiring visual represents how even apart, we continue to work together. Zoom in to search and try and find your image!
EVENT HISTORY
The Nature's Emporium Run for Southlake is the evolution of the Bob Hartwell Challenge that began in 2002 to pay tribute to local businessman, civic leader and avid runner, Bob Hartwell. Through his incredible contribution to the community, Bob touched many lives in his 54 years. The Run for Southlake honours his legacy by raising much-needed funds for our local hospital, so that we can all continue to have access to the leading edge care that we deserve, close to home.
This event has since evolved into one of Southlake's biggest annual signature event and become a fixture in our community, with the first ever sold out event in 2018. Just as Southlake touches the lives of people beyond York Region, participants come from all over to join in. From South Simcoe, Durham and Dufferin Counties, Toronto and even as far north as Muskoka, participants from 3 to 80 years old come to support leading edge health care for their family, friends and neighbours.
GET SOCIAL
Help us get the word out about the Nature's Emporium Run for Southlake - SL5K Virtual Challenge. Use #runforsouthlake and #SL5KVirtualChallenge across all your social media accounts we love seeing how much fun you're having! Be sure to follow us on Twitter, Instagram and Facebook for pre-event details, motivational content, fundraising tips and more!
Donate:
Find a Participant or Team:
Participate:
Donations Raised To-Date:
Top Donors:
Denim Days
Charlieville Developments Ltd.
A & J Vacworx Inc.
Jack Eisenberger
BAZIL DEVELOPMENTS INC.